Post by marissa on Oct 1, 2011 12:54:08 GMT -5
UNDEAD NIGHTMARE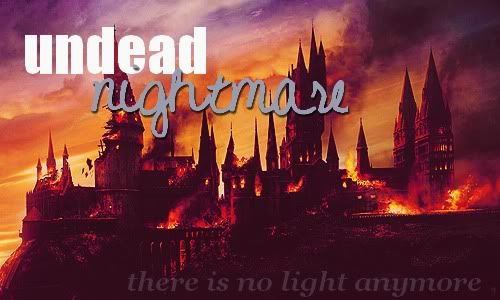 THE MINISTRY HAS FALLEN
they are coming they are coming they are coming
- - - - - - - - - - - - - - - - - - - - - - - - - - - - - - - - - - - -
"The one with the power to vanquish the Dark Lord approaches.
Born to those who have thrice defied him,
born as the seventh month dies.
And the Dark Lord will mark him as equal,
but he will have power the Dark Lord knows not.
And either must die at the hand of the other
for neither can live while the other survives.
The one with the power to vanquish the Dark Lord will be born
as the seventh month dies."

The Dark Lord is rising. He's coming. No one is safe. His power is at its peak. It won't be long before he has complete control over the Ministry, and then the Wizarding World itself. Students themselves don't have much to worry about, other than their families. Muggles and Muggleborns alike are in grave danger. While the aurors are trying as much as they can to keep the world under safe control, the adults aren't safe. There isn't much light in the dark world anymore.

Death Eaters are prospering. The Order of the Phoenix is getting more supporters, but at the same time, many are falling dead to the Death Eaters. The Ministry of Magic, while trying to protect itself, is trying to keep the darkness under a low profile. Chaotic turmoil is the last thing they need. But of course, it's the ministry. Never mind the Undead. What will happen next? Will He-Who-Must-Not-Be-Named eventually take over? Will the Death Eaters' reign seep through the safe walls of Hogwarts? What will be of the Wizarding World? Will someone be a hero in this war?
[/blockquote][/blockquote][/blockquote]
- - - - - - - - - - - - - - - - - - - - - - - - - - - - - - - - - - - -
Undead Nightmare
is a Post-Marauder era literate RPG.
The Marauders are finally out of Hogwarts, but it isn't as much
as they hoped it would be. They're not safe; no one is safe.
But never mind that, never mind the undead.
|
HOME
|
PLOT
|
RULES
|
CANONS
|
APPLICATION
|
FACE CLAIM
|
ADVERTISING
|[/center]